Massage
WARNING - the client does not make the reservation, but massager! See the time schedule and contact the massager.
Therapists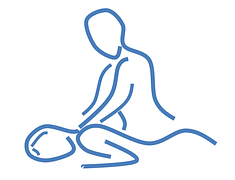 Lukáš Kočař
Phone: 774 941 328
E-mail: peli3@seznam.cz

Type of a massage
Sports
Classic
Price list
290 CZK / 30 minutes
400 CZK / 50 minutes
500 CZK / 80 minutes
A client who goes only on massage, does not have to pay admission to the pool and enters the locker room in the presence of a masseur.
Passes through the pool area under hygienic rules (client change his/her clothse in the locker room) and can use an infrared sauna before the actual massage (after agreement with the masseur and under hygienic conditions).
If the client wants to enter the pool afterwards, a ticket must be purchased before he/she enters the locker room. Straight after the massage client has to use a shower before he/she entering the pool, whirlpool and saunas.
Schedule